Reminder: All orders require a minimum total purchase of $100
Can't see pricing? Try logging in if you have a wholesale account. If you do not have account please Click Here to learn more and sign up for a wholesale account.
Free shipping on wholesale orders over $250 enter code: b2bshipfree250
Praas™ is the new name for ageless wonder in Ayurveda called Chyawanprash. It is a profound herbal jam that has been used for centuries to help people of all ages stay healthy year around.
Praas™ (Chyawanprash) contains over 28 Organic herbs in a base of 'Amalaki'. Also known as Amla berry or Indian gooseberry, Amalaki, a super fruit from the Himalayas, is revered in Ayurveda for its strong antioxidant, anti-aging characteristics with its potent free-radical scavenging properties.
Praas™ is made in the USA in small batches, with synergistic all-natural multi- nutrient blend of Organic whole herbs.
Praas™ is an elixir for both, young and old as it helps

Stimulate metabolism*
Strengthen the immune system*
Enhance digestion and absorption *
Improve concentration and memory*
Promote detoxification*
Balance stress levels*
Support healthy lungs and respiration*
Promote cellular rejuvenation and increases vitality*
Click Here for marketing material and instructions.
 Suggested Usage
For a traditional preparation, take 1 teaspoon of AyurBest's Praas / Chyawanprash 1-2 times a day with a cup of warm milk or hot water. For a delicious treat spread on toast or crackers like a jam alone or with your favorite nut butter to boost immunity.
Ingredients
Cane Sugar*, Amalaki*, Ghee* (Clarified Butter), Honey*, Dashmool *[Ringani/Bruhati (Solanum indicum)*, Agnimantha (Premna integrifolia)*, Shalparni (Desmodium gangeticum)*, Shyonaka (Oroxylum indicum)*, Prishniparni (Uraria picta)*, Padal/ Patala (Stereospermum, chelenoides/suaveolens)*, Bael/ Bilva (Aegle marmelos)*, Gokshur (Tribulus terrestris)*, Gambhari (Gmelina arborea)*, Kantakari (Solanum xanthocarpum)*], Green Cardamom (Elettaria cardamomum)*, Ashwagandha (Withania somnifera)*, Shatavari (Asparagus racemosus)*, Vidarikand (Ipomoea digitata)*, Cinnamon (Cinnamomum verum)*, Anantmool (Hemidesmus indicus)*, Bhumiamla (Phyllanthus urinaria)*, Black Cardamom (Amomum subulatum)*, Gokshur (Tribulus terrestris)*, Punarnava (Boerhavia diffusa)*, Raisins (Vitis vinifera)*, Ginger (Zingiber officinale)*,  Vasaka (Adhatoda vasica)*, Licorice (Glycyrrhiza glabra)*, Brahmi (Bacopa monnieri)*, Indian Bay leaf (Cinnamomum tamala)*, Nagkesar (Mesua ferrea)*, Pipali (Piper longum)*, *Certified Organic.
FREE of wheat, gluten, corn, soy, lactose, egg, tree nuts, peanuts, shell fish, artificial colors, artificial sweeteners and artificial preservatives.
Made in a facility that handles dairy, sesame and tree nuts. Contains Dairy.

Organic Chyawanprash, Herbal Jam, is manufactured in the USA from foreign and domestic ingredients.
***Please be aware that honey crystals can form over time.***
View full details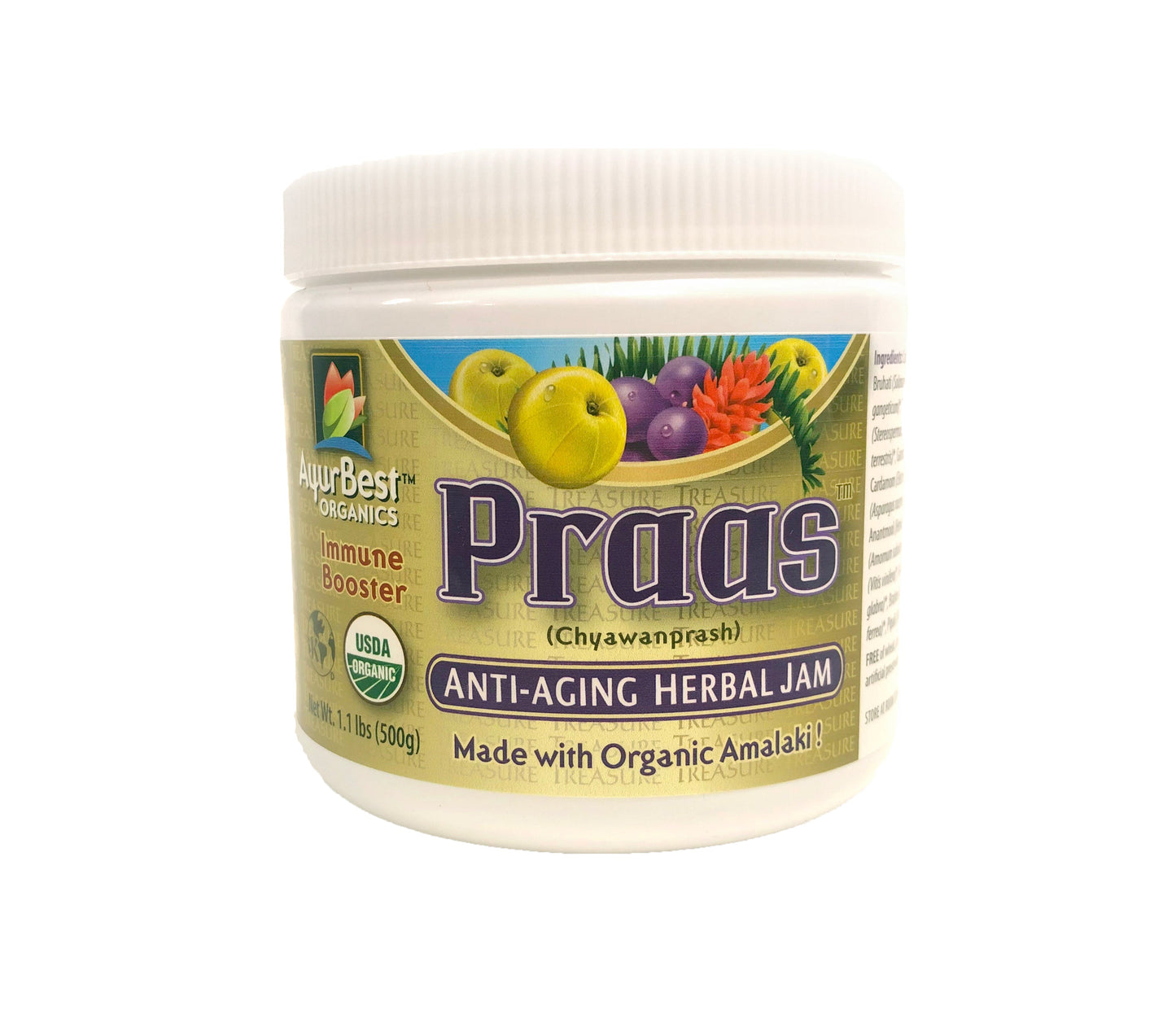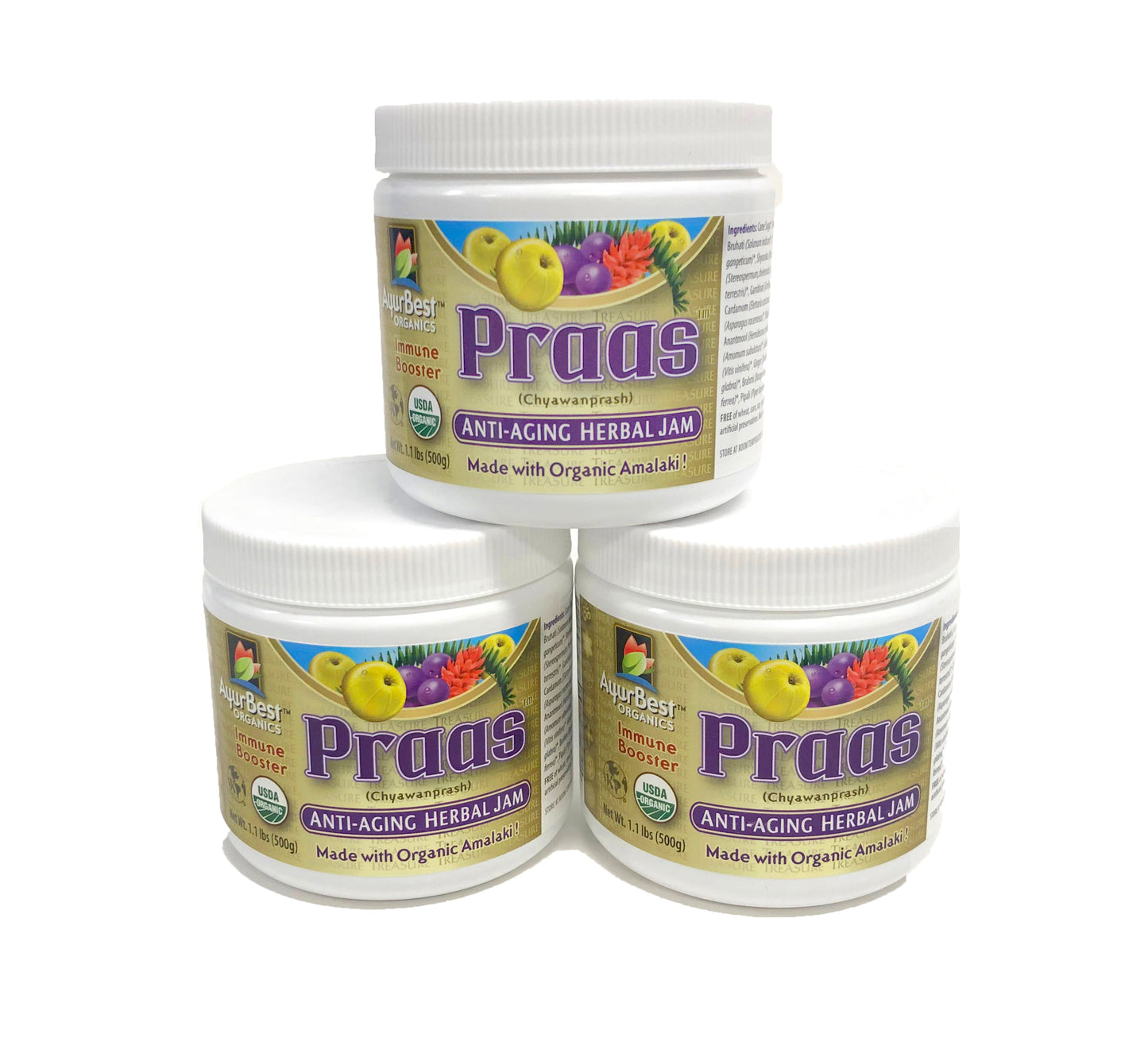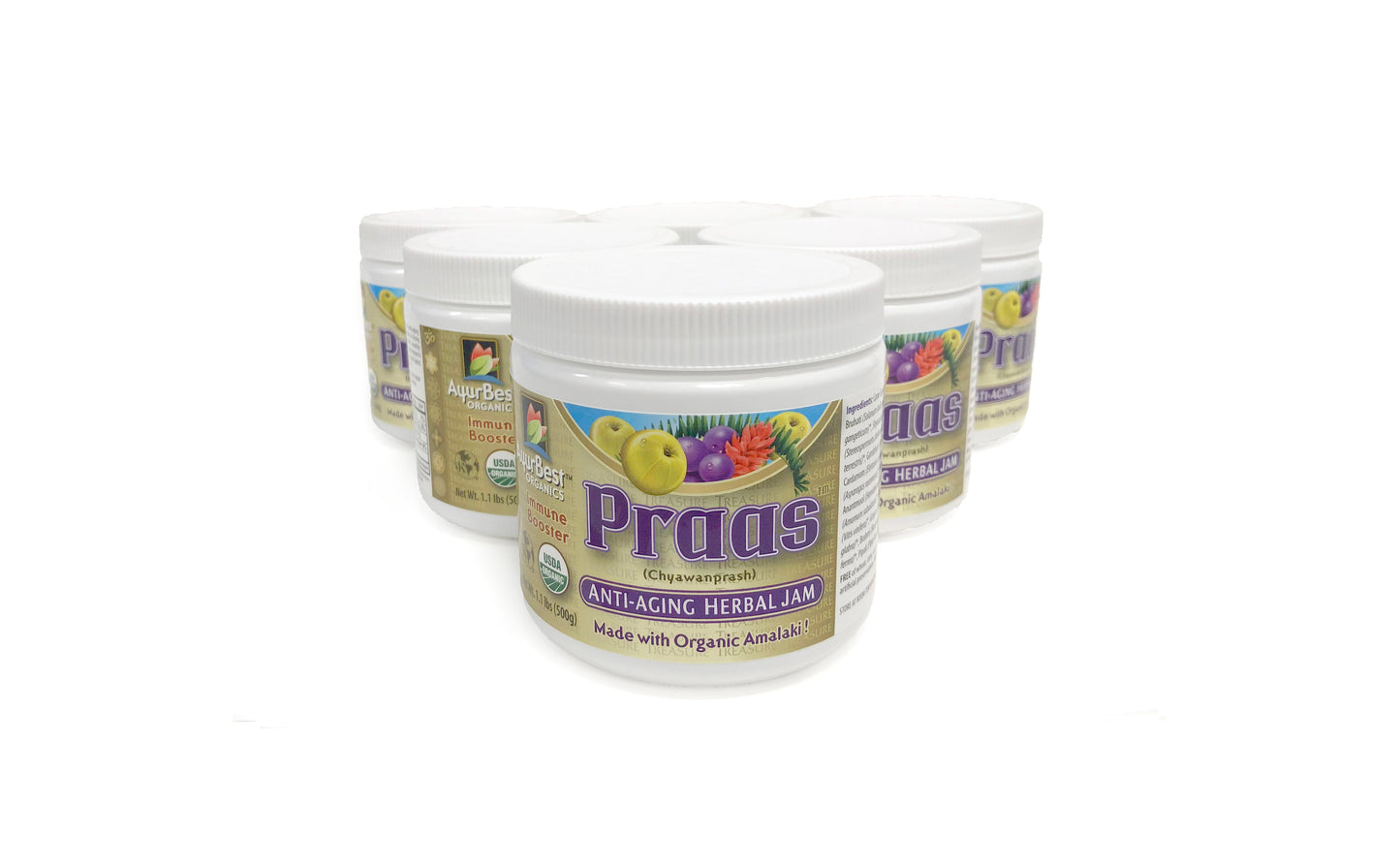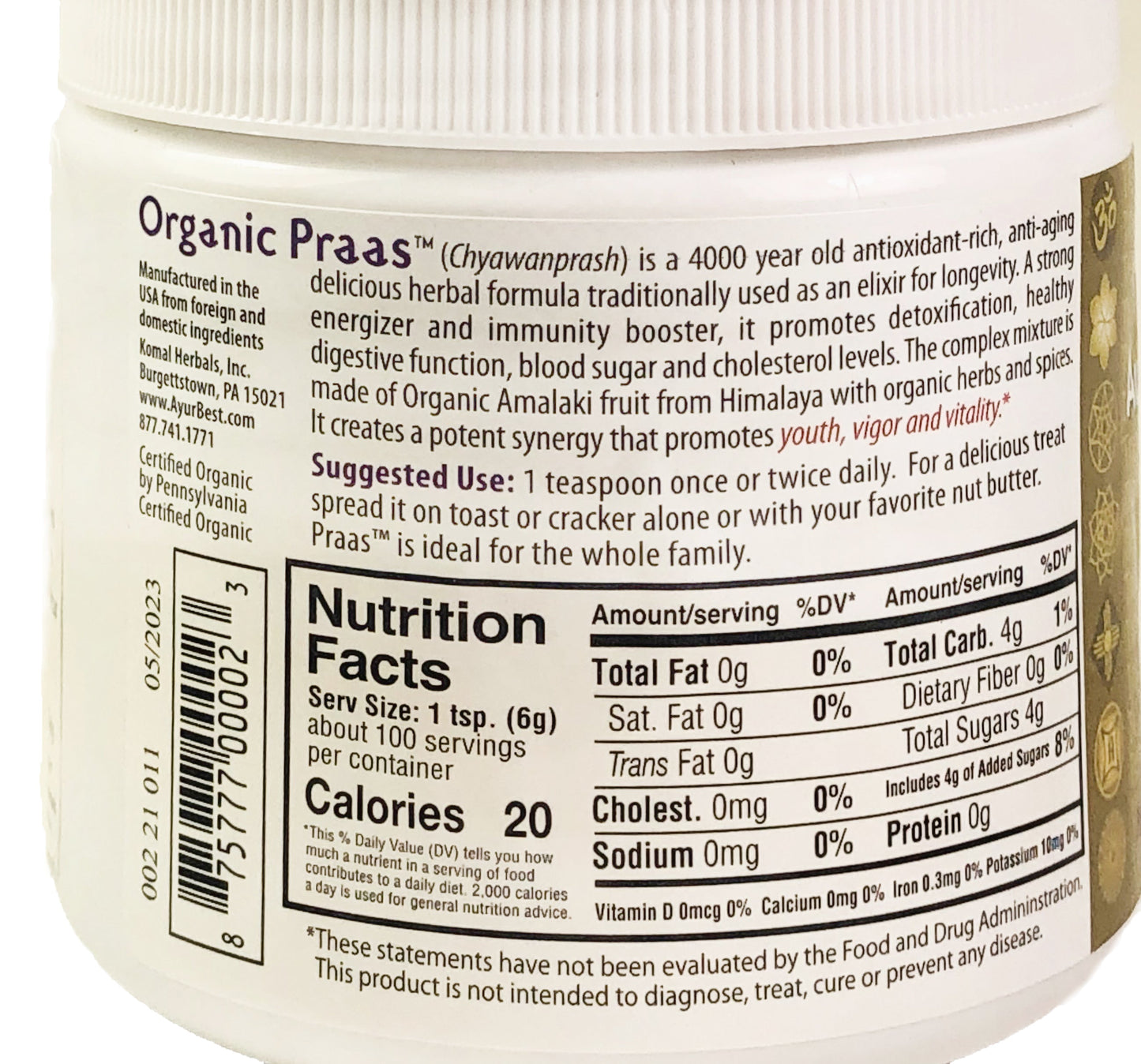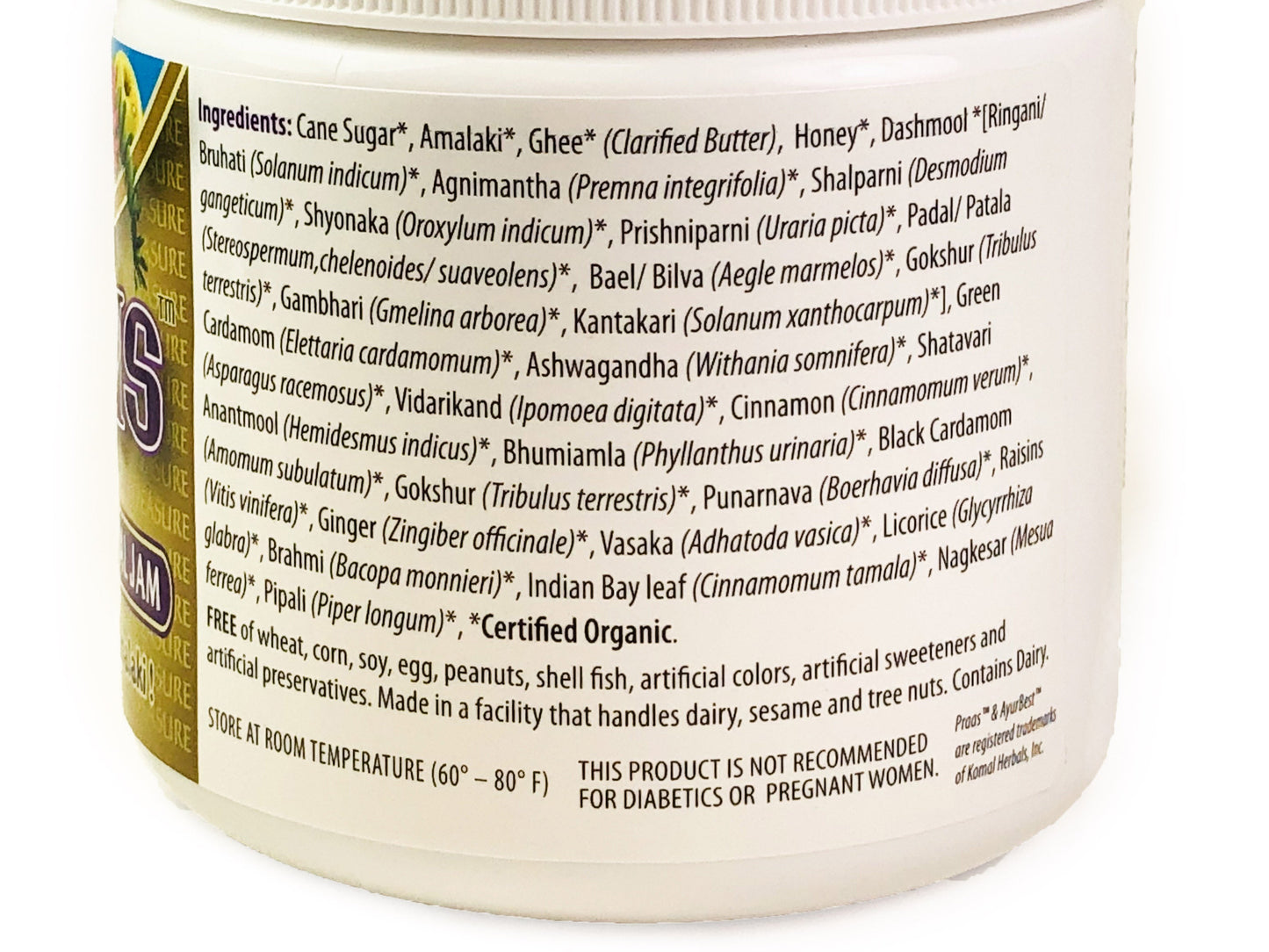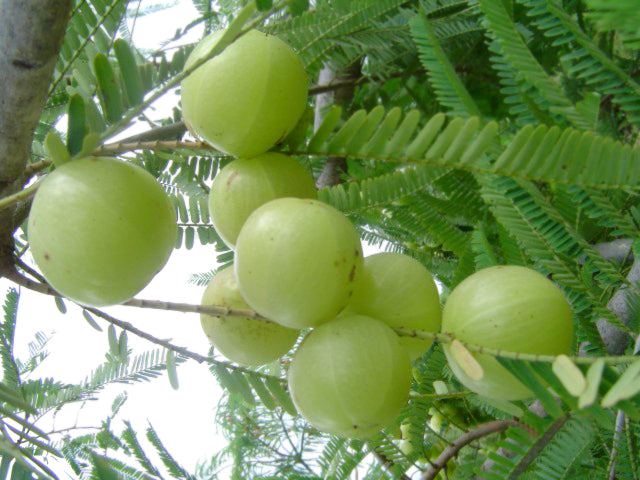 Read all labels carefully. Please consult with your health care practitioner prior to the use of this product if you are pregnant or nursing, taking medications, or have a medical condition.
Keep out of the reach of children.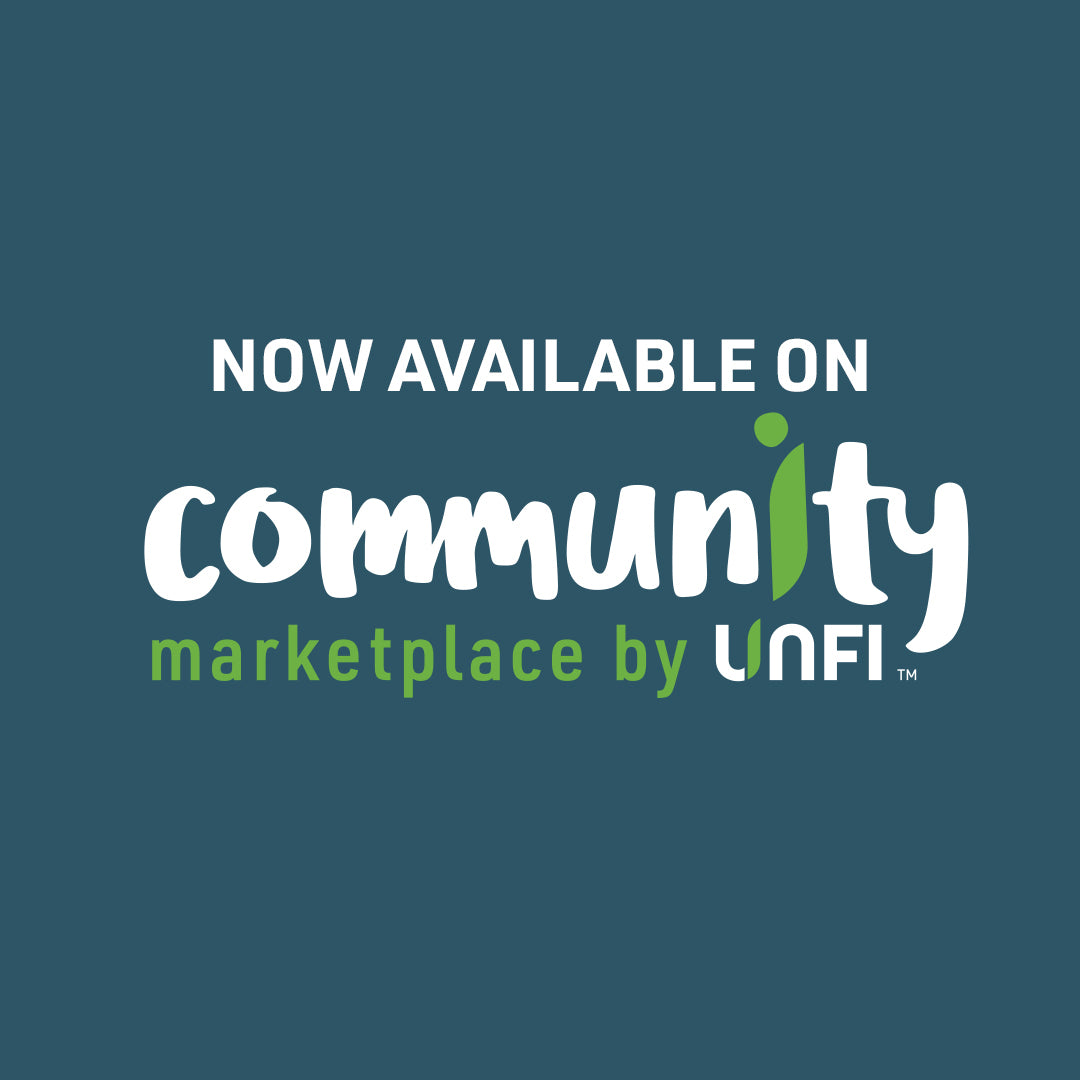 We are on Community market place by Unfi, are you?
Click the button to visit our store and save today with member benefits and discounts.
Visit Today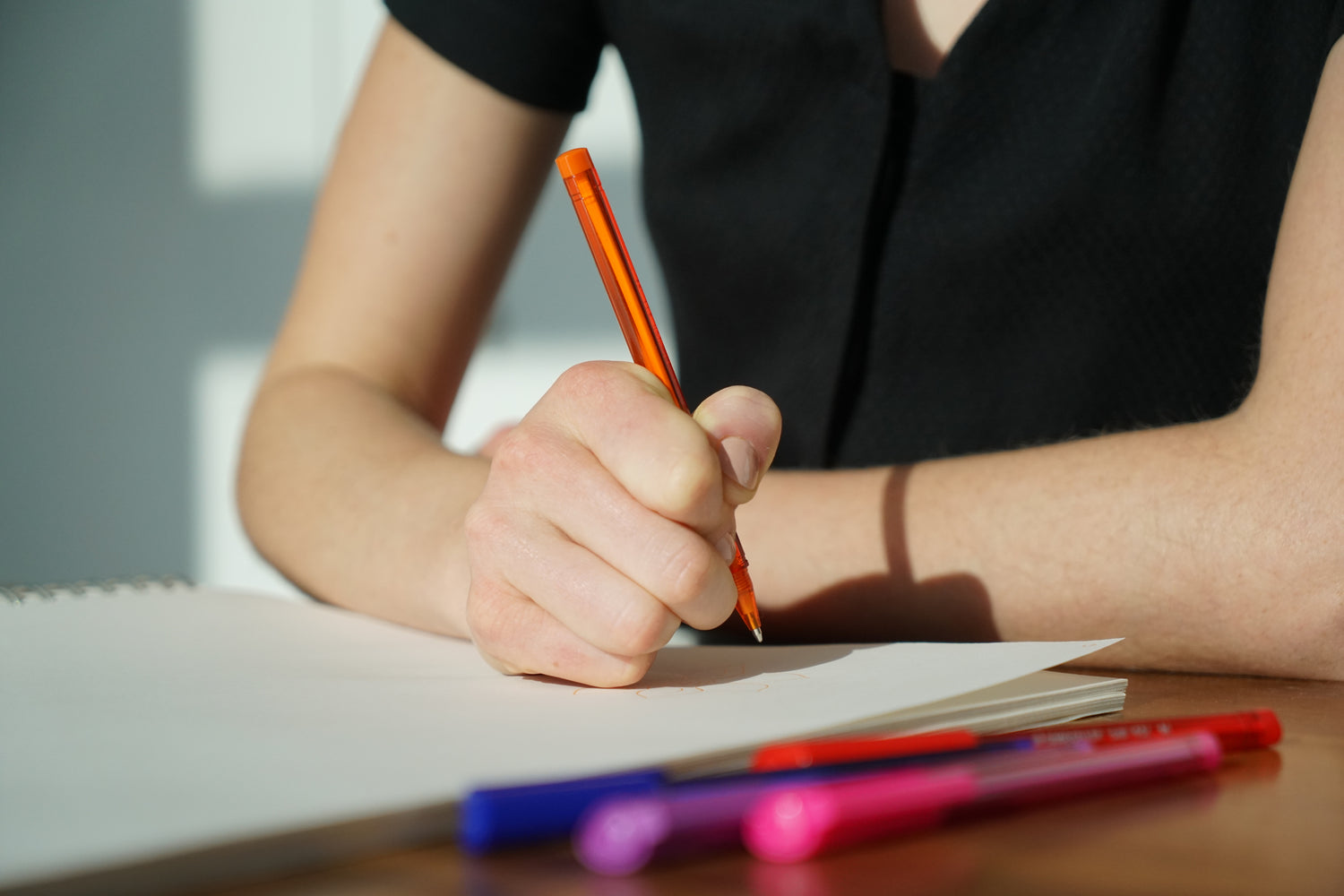 Interested in learning more? Try these sites...
https://www.ncbi.nlm.nih.gov/pmc/articles
https://pubmed.ncbi.nlm.nih.gov
https://www.britannica.com/
https://www.herbal-supplement-resource.com
https://www.healthbenefitstimes.com/
https://www.healthline.com
https://www.webmd.com